We are experiencing technical issues with our kitten application.
Please shoot us an email at: [email protected] if you experience issues.
Email, Calling or Texting are the best methods of contact our number is: (970) 214-8285.
Our available page is kept very current.
This page was last updated on: 09-10-2023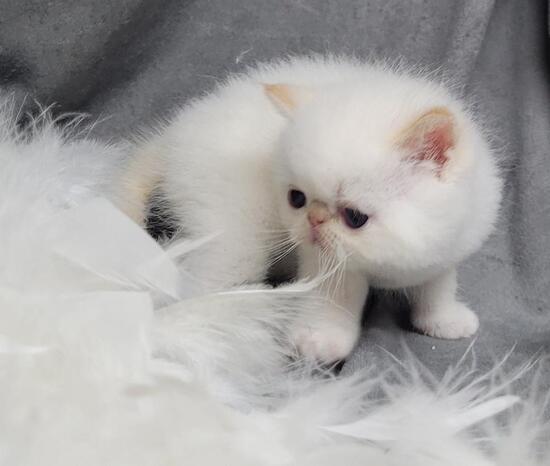 Flame Point Himalayan
Exotic Shorthair Male
Photo does not do this little guy justice!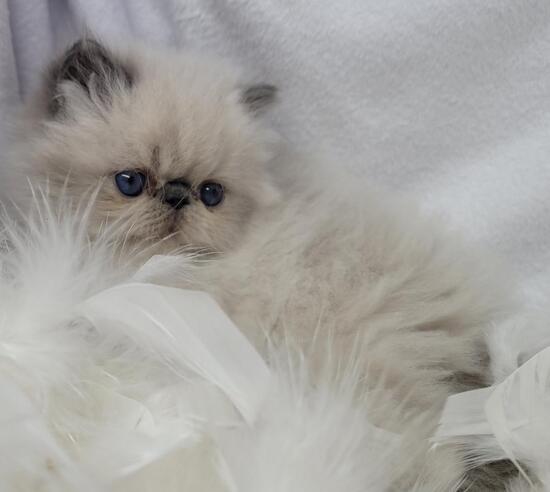 *RESERVED FOR BRITTANY*
Seal Point Himalayan
Exotic Longhair / Persian Male
This little cutie pie is super cute.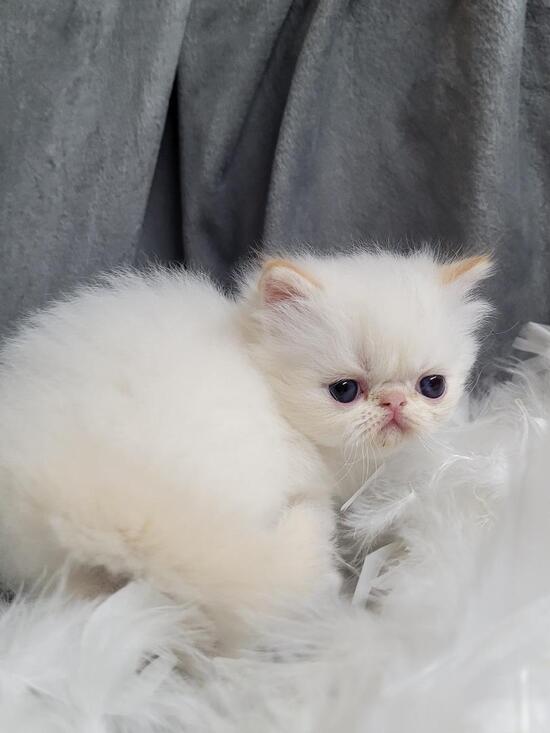 RESERVED FOR ROBIN
Flame Point Himalayan
Exotic Longhair / Persian Male
Here are some things to know about reserving a kitten:
We do not let anyone reserve a specific kitten until it has been cleared by our veterinarian.  We may show you photos of babies, but they cannot be reserved until they are vet cleared.
We do not keep a waiting list – only a reservation list from people who put down a deposit.  This gets you a place in line for first right of refusal by date of deposit.
You can specify gender and/or color, and then you will only be offered those babies that fit the reservation.  Or you can ask to be offered everything that comes up when it is your turn.
We don't know the exact time frame that you will wait.  Only Mother Nature is in control of that, but we do have kittens coming quite often.
We don't sell every kitten we produce.  You may see a kitten on our Facebook page that is not going to be offered.  Our number one goal is producing show kitties for our program.
If you place a deposit, you will be offered kittens.  You will be expected to decide if you want the kitten in a reasonable amount of time – like 24 hours max.  We have others waiting.
If you "disappear" after placing the deposit and do not respond when we attempt to contact you via the means we had been communicating (phone/text/email/messenger) and do not respond to our communication attempts in a reasonable amount of time (24 hours) we will "park" your deposit until we hear from you.  We will not continually try to reach you if you are not responsive.
Deposits are non refundable. Your deposit is your commitment to adopt a kitten with us.
We love seeing our babies go to your loving homes, and we look forward to working with you to find the purrfect companion for your household!
We have beautiful Persian kittens as well as Exotic Shorthair kittens available for adoption.  As a Colorado Persian cat breeder, Colorado Exotic Shorthair cat breeder we have Persian Cats and Persian kittens available for sale as well as Exotic Shorthair cats and kittens available. We produce Persians and Exotic Shorthair kittens as part of our hobby of showing Persian and Exotic Shorthair cats.  We cannot keep every kitten in our pursuit of the perfect kitten for showing, therefore we have Persian kittens available for sale as well as Exotic Shorthair.  Our cattery is in our home and is not a business. Breeding Persians and Exotics are our hobby, our passion and favorite pastime. My husband and I do not have human children so our cats and kittens are our children...our children just happen to have four legs! Our cats and kittens are showered with love and affection from birth. 
If you have specifics in mind when looking for a kitty and do not see what you are looking for on our available page, please contact us for the availability of a specific color, gender or facial structure. We try to keep this site up to date and our photos current. However, our first and foremost is for the care of our kitties, so if you are interested in acquiring a kitten from us, please feel free to call or send an email with regards to the availability of a Persian cat or kitten. Whether you are looking for the traditional doll faced Persian, angel faced, baby doll face Persian or an extreme flat faced Persian, you've come to the right place.
Please visit our Persian Kitten Application page when considering adopting a Persian kitten or cat from us.  This application assists us with matching the right kitten to your lifestyle and household.  If your household is loud and rambunctious or quiet and serene, it helps to know this so we can make sure the placement is a good fit not only for the kitten but for your family. It is our goal to make sure that the Persian cat or kitten is comfortable as well as the family members with whom he/she will be sharing a home. Please inquire for further details on the kittens we have available for adoption  Please feel free to fill out our kitten application.
Persian, Himalayan & Exotic Shorthair kitten adoption fees - Adoption fees are based on multiple factors. These include the kittens color, markings, gender and adherence to breed standard.
When considering to bring a new Persian kitten into your family, a few thoughts come to mind such as: "How do I select a reputable Persian breeder?" What separates a reputable or responsible breeder from a backyard breeder? If you are looking for a Persian cat breeder, we hope you will give us a call.
Kitten Vaccinations  When adopting a kitten, it is best to ensure you are adopting from a breeder that ensures the kitten has received at least two of their first three core vaccinations which are generally done at eight and twelve weeks.
Doll faced versus Extreme Faced Persians and Exotic Shorthair - Have you often wondered what it meant when they said "Dollfaced," "Baby doll faced," "traditional doll faced" or "extreme faced?"  What these terms are describing is the facial structure of the Persian cat or kitten.
Shipping a Persian Kitten on an Airplane - Shipping a kitten to you is a possibility.  We use a Pet Nanny service to accompany your new kitten. You may also make arrangements to meet us at the airport.
Preparing to bring your new kitten home - Kitten Proofing - Preparing to bring your new kitten home is somewhat like "child proofing" your home.  Imagine yourself as a kitten, what would you play with first?  A few things come to mind: the string on the mini-blinds, an electrical cord, the large poisonous plant sitting in the corner, potpourri, or even worse, the banister railing of the second floor.
New Kitten supply list - What supplies will I need for my new kitten?  Basic items such a litter boxes, food and water dishes, combs, brushes.  How about toys, what are safe for my new kitten?
New Kitten Acclimation - Introduction - Bringing home your new kitten once you have selected the "perfect kitten." When you chose a second cat, it is very important to match personality and lifestyle to the first cat.
Adjusting new kitty to new home - New Kitten Acclimation - Adopting a new Kitty - Bringing home your new kitten once you have selected the "perfect kitten." When you chose a second cat, it is very important to match personality and lifestyle to the first cat.  If you have an older, laid back cat, he is not likely going to eagerly welcome an energetic young kitty.  In this instance you might do better with a calm cat.  Opinions vary about the roles that age and gender play, though most experts agree that temperament and energy levels are the primary considerations. Still, there is no guarantee that even the perfect candidate will bond with your existing cat.
Stages of Persian kitten development - Every kitten is born wet and helpless resembling anything but a cat.  Newborn kittens are generally less than 5 inches long and weighing only a few ounces at birth.
Persian kitten sales contract - Please read our kitten contract.  Our contract spells out what is covered with regards to our written health guarantee.  Please read our contract and ask any questions you may have, you will be required to sign and agree to the terms contained within the agreement.
Kitten Placement Package - We provide each new Persian kitten owner with a placement package or kitten kit with all the information you need for your new kitten including a sample of their foods, nutritional supplements, a list of low cost spay and neuter clinics throughout the front range and their vaccination records.

All of our kittens are CFA (Cat Fanciers Association)  registered and have age appropriate vaccinations prior to leaving our home.  Our kittens are not exposed to any other cats prior to being vaccinated.  All of our pets are sold with a spay/neuter contract, therefore cannot be used for breeding purposes.  The rights to breed are not sold with the kitten. When you purchase a pet from us, you will be required to spay or neuter that kitten.  Once proof of spay or neuter is provided by a licensed veterinarian, we will release the CFA registration paperwork. Registration paperwork is not released until proof of alter is provided. If you are interested in breeding or purchasing breeders rights, please contact me for complete details.
Our cats are our "children." If you are interested in adopting/purchasing one of our "children," we will ask you to provide information about yourself, yur family and home life and environment the baby will be living in.  We reserve the right to refuse the adoption/sale of any of our "children" to anyone, at any time, for any or no reason.  If you choose to adopt/purchase one of our "children," you will need to place a 50% deposit. This deposit is your commitment to that animal, and your agreement to these terms.  Should you decide for any reason to not take that kitten from our home, you may use that deposit towards another kitten, but your deposit is non refundable. If these terms are not acceptable to you, please adopt elsewhere. We do not offer cash refunds at anytime for any reason. We do not accept checks from anyone for any reason so please do not anticipate the acceptance of a personal check.  We do NOT accept payments via Paypal nor do we accept credit cards.
We ship kittens within the continental United States. We take special care to transport our kitties via the airlines.  We have several well qualified pet couriers that we work with to get your kitty safely delivered to you.  The cost depends on where we are shipping to of course, but this method is so much easier on the animal that air cargo, and it is about the same price.  If a carrier, health certificate or other documentation is required to get a cat to you, you will be responsible for those fees and costs. The purchaser is solely responsible for the cost of shipping, the kennel and health/flight acclimation certificates.   We will make travel arrangements once payment in full has been made.  We will not make travel arrangements until a flight until payment has been received.
We discourage the inhumane procedure of de-clawing.  As one of the uninformed, we feel that people are not given enough information about the very violent procedure of de-clawing. We recommend that you exhaust every available option, such as trimming their claws with a pet nail trimmer, placing scratching posts where the cats scratch or the use of Soft-Claws, which cover the claws lasting four to six weeks and come in stylish colors. For more information on the inhumane de-clawing procedure, please visit the Declawing Information website or our Declawing Information page.
If you choose to inquire about a kitten you may contact us via telephone or email through our contact page. Please leave information as to how we may contact you and if you are inquiring about a specific kitten.
What is the Spay & Neuter Procedure
Colorado Low Cost Spay & Neuter
Funny Photos of Cats
Photos of Past Persian Kittens
Persian Cat Colors
Local Persian Cat Breeders
Colorado Persian Cat Breeder
Colorado Exotic Shorthair Cat Breeder
Cat Breeders Colorado
Persian Show Kittens for Sale
Persian Kittens for Sale
Persians for Sale in Colorado
Show Quality Persian Kittens