Adjusting new kitty to new home - New Kitten Acclimation - Adopting a new Kitty
Bringing home your new kitten once you have selected the "perfect kitten." When you chose a second cat, it is very important to match personality and lifestyle to the first cat.  If you have an older, laid back cat, he is not likely going to eagerly welcome an energetic young kitty.  In this instance you might do better with a calm cat.  Opinions vary about the roles that age and gender play, though most experts agree that temperament and energy levels are the primary considerations. Still, there is no guarantee that even the perfect candidate will bond with your existing cat.
Once you bring your new kitten home, it is important to have a room solely dedicated to the new kitten.  Provide its litterbox, food and water dishes, bedding and toys.  Open the carrier and leave the room, closing the door behind you.  This gives the cat new time to explore its small territory without the added stress of encountering strangers.  Over the next few days, give it lots of attention and love during brief visits, but do not force yourself on the kitten.
Basic feline introductions are done by beginning to familiarizing the cats to each other through scent exchange.  Rub a clean towel on each cat, then present it to the other cat.  This enables each cat to launch an investigation to the other without the stress of an actual encounter.
Now that the stage has been set, let you cats get their first glance at each other through a cracked door.  It is imperative that you maintain control of the door so as to protect the innocent if one gets grumpy.  Although some hissing and growling is expected, lasing out and lunging are not acceptable.  Slowly repeat this step until both cats are in the same room, however, do not turn your back as you may have to return your newcomer to their personal space.  Continue to expect a little hissing and argument and even a little swatting, but try to end the session on a positive note, even if the session only lasts a few moments or so.
Over time the cats will develop a relationship on their own terms.  Vocalization and harmless scuffles should dissipate over time as they establish a feline hierarchy.   Remember that introducing cats is not an overnight, or even a week-long process, it can take up to an average of six to eight weeks or longer.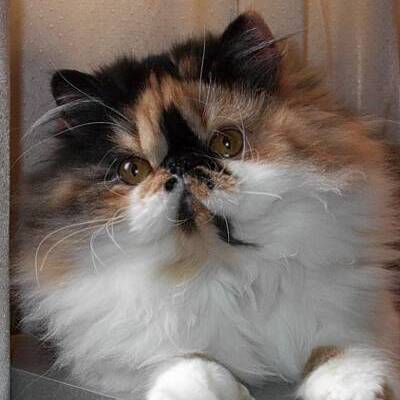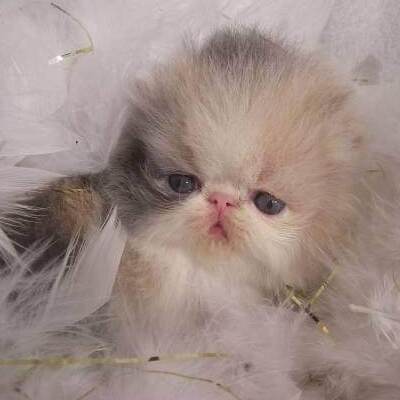 Akron, Colorado Persian, Himalayan and Exotic Shorthair Cat Breeder
Alamosa, Colorado Persian, Himalayan and Exotic Shorthair Cat Breeder
Allenspark, Colorado Persian, Himalayan and Exotic Shorthair Cat Breeder
Antonito, Colorado Persian, Himalayan and Exotic Shorthair Cat Breeder
Arboles, Colorado Persian, Himalayan and Exotic Shorthair Cat Breeder
Arriba, Colorado Persian, Himalayan and Exotic Shorthair Cat Breeder
Arvada, Colorado Persian, Himalayan and Exotic Shorthair Cat Breeder
Aspen, Colorado Persian, Himalayan and Exotic Shorthair Cat Breeder
Ault, Colorado Persian, Himalayan and Exotic Shorthair Cat Breeder
Aurora, Colorado Persian, Himalayan and Exotic Shorthair Cat Breeder
Avon, Colorado Persian, Himalayan and Exotic Shorthair Cat Breeder
Avondale, Colorado Persian, Himalayan and Exotic Shorthair Cat Breeder
Basalt, Colorado Persian, Himalayan and Exotic Shorthair Cat Breeder
Battlement Mesa, Colorado Persian, Himalayan and Exotic Shorthair Cat Breeder
Bayfield, Colorado Persian, Himalayan and Exotic Shorthair Cat Breeder
Bennett, Colorado Persian, Himalayan and Exotic Shorthair Cat Breeder
Berthoud, Colorado Persian, Himalayan and Exotic Shorthair Cat Breeder
Bethune, Colorado Persian, Himalayan and Exotic Shorthair Cat Breeder
Blanca, Colorado Persian, Himalayan and Exotic Shorthair Cat Breeder
Boone, Colorado Persian, Himalayan and Exotic Shorthair Cat Breeder
Boulder, Colorado Persian, Himalayan and Exotic Shorthair Cat Breeder
Breckenridge, Colorado Persian, Himalayan and Exotic Shorthair Cat Breeder
Brighton, Colorado Persian, Himalayan and Exotic Shorthair Cat Breeder
Broomfield, Colorado Persian, Himalayan and Exotic Shorthair Cat Breeder
Brush, Colorado Persian, Himalayan and Exotic Shorthair Cat Breeder
Buena Vista, Colorado Persian, Himalayan and Exotic Shorthair Cat Breeder
Burlington, Colorado Persian, Himalayan and Exotic Shorthair Cat Breeder
Byers, Colorado Persian, Himalayan and Exotic Shorthair Cat Breeder
Calhan, Colorado Persian, Himalayan and Exotic Shorthair Cat Breeder
Canon City, Colorado Persian, Himalayan and Exotic Shorthair Cat Breeder
Carbondale, Colorado Persian, Himalayan and Exotic Shorthair Cat Breeder
Castle Rock, Colorado Persian, Himalayan and Exotic Shorthair Cat Breeder
Cedaredge, Colorado Persian, Himalayan and Exotic Shorthair Cat Breeder
Center, Colorado Persian, Himalayan and Exotic Shorthair Cat Breeder
Central City, Colorado Persian, Himalayan and Exotic Shorthair Cat Breeder
Cheraw, Colorado Persian, Himalayan and Exotic Shorthair Cat Breeder
Cheyenne Wells, Colorado Persian, Himalayan and Exotic Shorthair Cat Breeder
Clifton, Colorado Persian, Himalayan and Exotic Shorthair Cat Breeder
Coal Creek, Colorado Persian, Himalayan and Exotic Shorthair Cat Breeder
Collbran, Colorado Persian, Himalayan and Exotic Shorthair Cat Breeder
Colorado City, Colorado Persian, Himalayan and Exotic Shorthair Cat Breeder
Colorado Springs, Colorado Persian, Himalayan and Exotic Shorthair Cat Breeder
Commerce City, Colorado Persian, Himalayan and Exotic Shorthair Cat Breeder
Cortez, Colorado Persian, Himalayan and Exotic Shorthair Cat Breeder
Craig, Colorado Persian, Himalayan and Exotic Shorthair Cat Breeder
Crawford, Colorado Persian, Himalayan and Exotic Shorthair Cat Breeder
Creede, Colorado Persian, Himalayan and Exotic Shorthair Cat Breeder
Crested Butte, Colorado Persian, Himalayan and Exotic Shorthair Cat Breeder
Cripple Creek, Colorado Persian, Himalayan and Exotic Shorthair Cat Breeder
Dacono, Colorado Persian, Himalayan and Exotic Shorthair Cat Breeder
De Beque, Colorado Persian, Himalayan and Exotic Shorthair Cat Breeder
Deer Trail, Colorado Persian, Himalayan and Exotic Shorthair Cat Breeder
Del Norte, Colorado Persian, Himalayan and Exotic Shorthair Cat Breeder
Delta, Colorado Persian, Himalayan and Exotic Shorthair Cat Breeder
Denver, Colorado Persian, Himalayan and Exotic Shorthair Cat Breeder
Dillon, Colorado Persian, Himalayan and Exotic Shorthair Cat Breeder
Dinosaur, Colorado Persian, Himalayan and Exotic Shorthair Cat Breeder
Dolores, Colorado Persian, Himalayan and Exotic Shorthair Cat Breeder
Dove Creek, Colorado Persian, Himalayan and Exotic Shorthair Cat Breeder
Durango, Colorado Persian, Himalayan and Exotic Shorthair Cat Breeder
Eads, Colorado Persian, Himalayan and Exotic Shorthair Cat Breeder
Eagle, Colorado Persian, Himalayan and Exotic Shorthair Cat Breeder
Eaton, Colorado Persian, Himalayan and Exotic Shorthair Cat Breeder
Eckley, Colorado Persian, Himalayan and Exotic Shorthair Cat Breeder
Edwards, Colorado Persian, Himalayan and Exotic Shorthair Cat Breeder
Eldorado Springs, Colorado Persian, Himalayan and Exotic Shorthair Cat Breeder
Elizabeth, Colorado Persian, Himalayan and Exotic Shorthair Cat Breeder
Empire, Colorado Persian, Himalayan and Exotic Shorthair Cat Breeder
Englewood, Colorado Persian, Himalayan and Exotic Shorthair Cat Breeder
Erie, Colorado Persian, Himalayan and Exotic Shorthair Cat Breeder
Estes Park, Colorado Persian, Himalayan and Exotic Shorthair Cat Breeder
Evans, Colorado Persian, Himalayan and Exotic Shorthair Cat Breeder
Evergreen, Colorado Persian, Himalayan and Exotic Shorthair Cat Breeder
Fairplay, Colorado Persian, Himalayan and Exotic Shorthair Cat Breeder
Firestone, Colorado Persian, Himalayan and Exotic Shorthair Cat Breeder
Flagler, Colorado Persian, Himalayan and Exotic Shorthair Cat Breeder
Fleming, Colorado Persian, Himalayan and Exotic Shorthair Cat Breeder
Florence, Colorado Persian, Himalayan and Exotic Shorthair Cat Breeder
Fort Collins, Colorado Persian, Himalayan and Exotic Shorthair Cat Breeder
Fort Garland, Colorado Persian, Himalayan and Exotic Shorthair Cat Breeder
Fort Lupton, Colorado Persian, Himalayan and Exotic Shorthair Cat Breeder
Fort Morgan, Colorado Persian, Himalayan and Exotic Shorthair Cat Breeder
Fountain, Colorado Persian, Himalayan and Exotic Shorthair Cat Breeder
Fowler, Colorado Persian, Himalayan and Exotic Shorthair Cat Breeder
Fraser, Colorado Persian, Himalayan and Exotic Shorthair Cat Breeder
Frederick, Colorado Persian, Himalayan and Exotic Shorthair Cat Breeder
Frisco, Colorado Persian, Himalayan and Exotic Shorthair Cat Breeder
Fruita, Colorado Persian, Himalayan and Exotic Shorthair Cat Breeder
Genoa, Colorado Persian, Himalayan and Exotic Shorthair Cat Breeder
Georgetown, Colorado Persian, Himalayan and Exotic Shorthair Cat Breeder
Gilcrest, Colorado Persian, Himalayan and Exotic Shorthair Cat Breeder
Glenwood Springs, Colorado Persian, Himalayan and Exotic Shorthair Cat Breeder
Golden, Colorado Persian, Himalayan and Exotic Shorthair Cat Breeder
Granada, Colorado Persian, Himalayan and Exotic Shorthair Cat Breeder
Granby, Colorado Persian, Himalayan and Exotic Shorthair Cat Breeder
Grand Junction, Colorado Persian, Himalayan and Exotic Shorthair Cat Breeder
Grand Lake, Colorado Persian, Himalayan and Exotic Shorthair Cat Breeder
Greeley, Colorado Persian, Himalayan and Exotic Shorthair Cat Breeder
Green Mountain Falls, Colorado Persian, Himalayan and Exotic Shorthair Cat Breeder
Gunnison, Colorado Persian, Himalayan and Exotic Shorthair Cat Breeder
Gypsum, Colorado Persian, Himalayan and Exotic Shorthair Cat Breeder
Haxtun, Colorado Persian, Himalayan and Exotic Shorthair Cat Breeder
Hayden, Colorado Persian, Himalayan and Exotic Shorthair Cat Breeder
Hillrose, Colorado Persian, Himalayan and Exotic Shorthair Cat Breeder
Holly, Colorado Persian, Himalayan and Exotic Shorthair Cat Breeder
Holyoke, Colorado Persian, Himalayan and Exotic Shorthair Cat Breeder
Hot Sulphur Springs, Colorado Persian, Himalayan and Exotic Shorthair Cat Breeder
Hotchkiss, Colorado Persian, Himalayan and Exotic Shorthair Cat Breeder
Hudson, Colorado Persian, Himalayan and Exotic Shorthair Cat Breeder
Hugo, Colorado Persian, Himalayan and Exotic Shorthair Cat Breeder
Idaho Springs, Colorado Persian, Himalayan and Exotic Shorthair Cat Breeder
Ignacio, Colorado Persian, Himalayan and Exotic Shorthair Cat Breeder
Iliff, Colorado Persian, Himalayan and Exotic Shorthair Cat Breeder
Indian Hills, Colorado Persian, Himalayan and Exotic Shorthair Cat Breeder
Jamestown, Colorado Persian, Himalayan and Exotic Shorthair Cat Breeder
Johnstown, Colorado Persian, Himalayan and Exotic Shorthair Cat Breeder
Julesburg, Colorado Persian, Himalayan and Exotic Shorthair Cat Breeder
Keenesburg, Colorado Persian, Himalayan and Exotic Shorthair Cat Breeder
Kersey, Colorado Persian, Himalayan and Exotic Shorthair Cat Breeder
Kiowa, Colorado Persian, Himalayan and Exotic Shorthair Cat Breeder
Kit Carson, Colorado Persian, Himalayan and Exotic Shorthair Cat Breeder
Kittredge, Colorado Persian, Himalayan and Exotic Shorthair Cat Breeder
Kremmling, Colorado Persian, Himalayan and Exotic Shorthair Cat Breeder
La Jara, Colorado Persian, Himalayan and Exotic Shorthair Cat Breeder
La Junta, Colorado Persian, Himalayan and Exotic Shorthair Cat Breeder
La Salle, Colorado Persian, Himalayan and Exotic Shorthair Cat Breeder
La Veta, Colorado Persian, Himalayan and Exotic Shorthair Cat Breeder
Lafayette, Colorado Persian, Himalayan and Exotic Shorthair Cat Breeder
Lake City, Colorado Persian, Himalayan and Exotic Shorthair Cat Breeder
Lamar, Colorado Persian, Himalayan and Exotic Shorthair Cat Breeder
Laporte, Colorado Persian, Himalayan and Exotic Shorthair Cat Breeder
Larkspur, Colorado Persian, Himalayan and Exotic Shorthair Cat Breeder
Las Animas, Colorado Persian, Himalayan and Exotic Shorthair Cat Breeder
Leadville, Colorado Persian, Himalayan and Exotic Shorthair Cat Breeder
Limon, Colorado Persian, Himalayan and Exotic Shorthair Cat Breeder
Littleton, Colorado Persian, Himalayan and Exotic Shorthair Cat Breeder
Log Lane Village, Colorado Persian, Himalayan and Exotic Shorthair Cat Breeder
Longmont, Colorado Persian, Himalayan and Exotic Shorthair Cat Breeder
Louisville, Colorado Persian, Himalayan and Exotic Shorthair Cat Breeder
Louviers, Colorado Persian, Himalayan and Exotic Shorthair Cat Breeder
Loveland, Colorado Persian, Himalayan and Exotic Shorthair Cat Breeder
Lyons, Colorado Persian, Himalayan and Exotic Shorthair Cat Breeder
Manassa, Colorado Persian, Himalayan and Exotic Shorthair Cat Breeder
Mancos, Colorado Persian, Himalayan and Exotic Shorthair Cat Breeder
Manitou Springs, Colorado Persian, Himalayan and Exotic Shorthair Cat Breeder
Manzanola, Colorado Persian, Himalayan and Exotic Shorthair Cat Breeder
Mead, Colorado Persian, Himalayan and Exotic Shorthair Cat Breeder
Meeker, Colorado Persian, Himalayan and Exotic Shorthair Cat Breeder
Merino, Colorado Persian, Himalayan and Exotic Shorthair Cat Breeder
Milliken, Colorado Persian, Himalayan and Exotic Shorthair Cat Breeder
Minturn, Colorado Persian, Himalayan and Exotic Shorthair Cat Breeder
Monte Vista, Colorado Persian, Himalayan and Exotic Shorthair Cat Breeder
Monument, Colorado Persian, Himalayan and Exotic Shorthair Cat Breeder
Morrison, Colorado Persian, Himalayan and Exotic Shorthair Cat Breeder
Naturita, Colorado Persian, Himalayan and Exotic Shorthair Cat Breeder
Nederland, Colorado Persian, Himalayan and Exotic Shorthair Cat Breeder
New Castle, Colorado Persian, Himalayan and Exotic Shorthair Cat Breeder
Niwot, Colorado Persian, Himalayan and Exotic Shorthair Cat Breeder
Norwood, Colorado Persian, Himalayan and Exotic Shorthair Cat Breeder
Nucla, Colorado Persian, Himalayan and Exotic Shorthair Cat Breeder
Nunn, Colorado Persian, Himalayan and Exotic Shorthair Cat Breeder
Oak Creek, Colorado Persian, Himalayan and Exotic Shorthair Cat Breeder
Olathe, Colorado Persian, Himalayan and Exotic Shorthair Cat Breeder
Olney Springs, Colorado Persian, Himalayan and Exotic Shorthair Cat Breeder
Ordway, Colorado Persian, Himalayan and Exotic Shorthair Cat Breeder
Otis, Colorado Persian, Himalayan and Exotic Shorthair Cat Breeder
Ouray, Colorado Persian, Himalayan and Exotic Shorthair Cat Breeder
Ovid, Colorado Persian, Himalayan and Exotic Shorthair Cat Breeder
Pagosa Springs, Colorado Persian, Himalayan and Exotic Shorthair Cat Breeder
Palisade, Colorado Persian, Himalayan and Exotic Shorthair Cat Breeder
Palmer Lake, Colorado Persian, Himalayan and Exotic Shorthair Cat Breeder
Paonia, Colorado Persian, Himalayan and Exotic Shorthair Cat Breeder
Parachute, Colorado Persian, Himalayan and Exotic Shorthair Cat Breeder
Parker, Colorado Persian, Himalayan and Exotic Shorthair Cat Breeder
Peetz, Colorado Persian, Himalayan and Exotic Shorthair Cat Breeder
Penrose, Colorado Persian, Himalayan and Exotic Shorthair Cat Breeder
Pierce, Colorado Persian, Himalayan and Exotic Shorthair Cat Breeder
Platteville, Colorado Persian, Himalayan and Exotic Shorthair Cat Breeder
Poncha Springs, Colorado Persian, Himalayan and Exotic Shorthair Cat Breeder
Pueblo, Colorado Persian, Himalayan and Exotic Shorthair Cat Breeder
Rangely, Colorado Persian, Himalayan and Exotic Shorthair Cat Breeder
Red Cliff, Colorado Persian, Himalayan and Exotic Shorthair Cat Breeder
Red Feather Lakes, Colorado Persian, Himalayan and Exotic Shorthair Cat Breeder
Rico, Colorado Persian, Himalayan and Exotic Shorthair Cat Breeder
Ridgway, Colorado Persian, Himalayan and Exotic Shorthair Cat Breeder
Rifle, Colorado Persian, Himalayan and Exotic Shorthair Cat Breeder
Rockvale, Colorado Persian, Himalayan and Exotic Shorthair Cat Breeder
Rocky Ford, Colorado Persian, Himalayan and Exotic Shorthair Cat Breeder
Romeo, Colorado Persian, Himalayan and Exotic Shorthair Cat Breeder
Rye, Colorado Persian, Himalayan and Exotic Shorthair Cat Breeder
Saguache, Colorado Persian, Himalayan and Exotic Shorthair Cat Breeder
Salida, Colorado Persian, Himalayan and Exotic Shorthair Cat Breeder
San Luis, Colorado Persian, Himalayan and Exotic Shorthair Cat Breeder
Sanford, Colorado Persian, Himalayan and Exotic Shorthair Cat Breeder
Sedalia, Colorado Persian, Himalayan and Exotic Shorthair Cat Breeder
Severance, Colorado Persian, Himalayan and Exotic Shorthair Cat Breeder
Silt, Colorado Persian, Himalayan and Exotic Shorthair Cat Breeder
Silver Plume, Colorado Persian, Himalayan and Exotic Shorthair Cat Breeder
Silverthorne, Colorado Persian, Himalayan and Exotic Shorthair Cat Breeder
Silverton, Colorado Persian, Himalayan and Exotic Shorthair Cat Breeder
Simla, Colorado Persian, Himalayan and Exotic Shorthair Cat Breeder
Snowmass Village, Colorado Persian, Himalayan and Exotic Shorthair Cat Breeder
South Fork, Colorado Persian, Himalayan and Exotic Shorthair Cat Breeder
Springfield, Colorado Persian, Himalayan and Exotic Shorthair Cat Breeder
Steamboat Springs, Colorado Persian, Himalayan and Exotic Shorthair Cat Breeder
Sterling, Colorado Persian, Himalayan and Exotic Shorthair Cat Breeder
Strasburg, Colorado Persian, Himalayan and Exotic Shorthair Cat Breeder
Stratton, Colorado Persian, Himalayan and Exotic Shorthair Cat Breeder
Sugar City, Colorado Persian, Himalayan and Exotic Shorthair Cat Breeder
Swink, Colorado Persian, Himalayan and Exotic Shorthair Cat Breeder
Telluride, Colorado Persian, Himalayan and Exotic Shorthair Cat Breeder
Thornton, Colorado Persian, Himalayan and Exotic Shorthair Cat Breeder
Timnath, Colorado Persian, Himalayan and Exotic Shorthair Cat Breeder
Towaoc, Colorado Persian, Himalayan and Exotic Shorthair Cat Breeder
Trinidad, Colorado Persian, Himalayan and Exotic Shorthair Cat Breeder
Vail, Colorado Persian, Himalayan and Exotic Shorthair Cat Breeder
Victor, Colorado Persian, Himalayan and Exotic Shorthair Cat Breeder
Walden, Colorado Persian, Himalayan and Exotic Shorthair Cat Breeder
Walsenburg, Colorado Persian, Himalayan and Exotic Shorthair Cat Breeder
Walsh, Colorado Persian, Himalayan and Exotic Shorthair Cat Breeder
Wellington, Colorado Persian, Himalayan and Exotic Shorthair Cat Breeder
Westcliffe, Colorado Persian, Himalayan and Exotic Shorthair Cat Breeder
Westminster, Colorado Persian, Himalayan and Exotic Shorthair Cat Breeder
Wheat Ridge, Colorado Persian, Himalayan and Exotic Shorthair Cat Breeder
Wiggins, Colorado Persian, Himalayan and Exotic Shorthair Cat Breeder
Wiley, Colorado Persian, Himalayan and Exotic Shorthair Cat Breeder
Windsor, Colorado Persian, Himalayan and Exotic Shorthair Cat Breeder
Winter Park, Colorado Persian, Himalayan and Exotic Shorthair Cat Breeder
Woodland Park, Colorado Persian, Himalayan and Exotic Shorthair Cat Breeder
Wray, Colorado Persian, Himalayan and Exotic Shorthair Cat Breeder
Yampa, Colorado Persian, Himalayan and Exotic Shorthair Cat Breeder
Yuma, Colorado Persian, Himalayan and Exotic Shorthair Cat Breeder