How to get rid of stains on the face of a Persian cat or kitten?  Using Grooming Powder for Facial Staining on light Colored Cats can help.
When grooming your Persian cat or kitten you may be fighting facial and front ruff stains.  Facial staining on a Persian cat shows much more on a lighter colored coat than a dark colored Persian.
As you can see, in the photos below this Persian kitten has major facial staining and stains on the ruff.  The facial staining is primarily caused from the oils and dyes in food as well as the water bowl and eye discharge.  With a flat face or an extreme faced Persian, eye discharge is a normal occurrence.  Regular application of facial powder also called grooming powder will reduce staining of the Persians coat.  
When grooming your Persian cat, remember that consistency in grooming plays a big factor in how your Persian cat will look. Grooming powders work by absorbing stains from the areas it is applied to as well as future moisture and stains will be absorbed by the powder. For example, to keep eye stains to a minimum on the Persian cat's face and the eye area you can apply grooming powder to the areas affected by eye drainage and discharge.  Grooming your Persian can be a fairly easy process if you powder the affected areas on a regular basis.  
The Persian kitten pictured below was bathed and then the facial stains were treated with the facial grooming powder.  As you can see this is the same kitten that was picture above and the facial stains he had in the previous photos are nearly gone.  With regular usage of the grooming powder you can remove a majority of these facial stains very easily.
One thing to remember when grooming your Persians face is that you will want to be very, very careful working around the eye area.  When first starting out with the facial grooming powder, start slowly as this may be a new thing for your kitty.
Another tool that works great when grooming your Persians face is a flea comb, also pictured below.  Although it's a little hard to see the detail in the photograph, but this is what is referred to as a flea comb.  A flea comb is available at most pet supply stores.  A flea comb has two sides of very fine teeth for combing.  When grooming your Persian cat or kitten, the proper grooming tools will make grooming a lot easier.  You can use a toothbrush to apply grooming powder to a cat.  Great care must be taken to keep the grooming powder from getting into your Persian cats' eyes.
Remember that your Persian cat will not be accustom to this when you first start the process so please be patient with your Persian cat or kitten.  Also note, it is very important to be careful when working around the eyes of a Persian especially with a comb. You don't want to catch a tooth of the comb on the corner of the kitten's eye.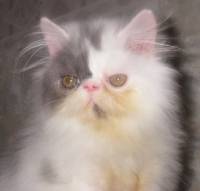 Before application of grooming powder.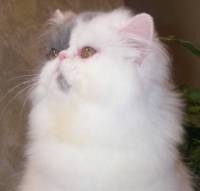 After application of grooming powder.